If you want to change the way you show up for work and life, it's an inside job. While it's an inside job, it's also really useful to have an experienced guide to accompany you. My focus is to uncover the automatic processes that are outside of your awareness - but which currently determine the way you show up - then interrupt them to change your response. You emerge from our work more aware, more intentional, and more consciously skillful.
What I bring to the process is distilled learning and expertise, along with personal experience reworking my own automatic processes, to help you uncover your automatic tendencies, support you in redesigning them and then consciously practicing them until you have a new way of Being that supports your intentions. That's how you become more skillfully yourself. It's not about becoming a different person. It's about invoking and tapping your wiser Self, your Inner Leader, who is already present, to help you tame your nervous system so you show up more often as your Optimal Self.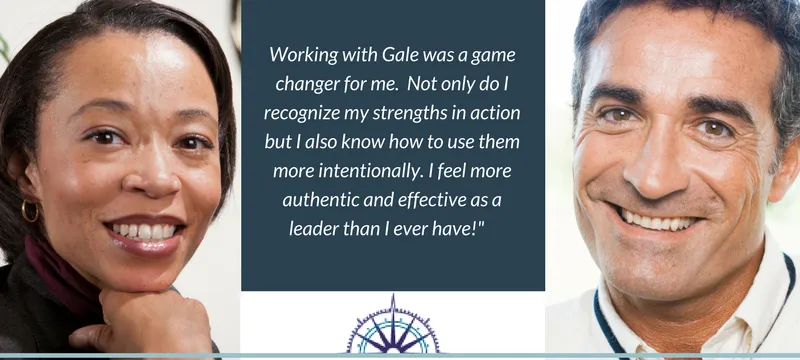 I help experienced professionals identify the gap between how they want to show up and feel in their leadership and how they do now. The gap assessment can be informal - their own sense of the gap - or it can be more formal, through a 360, like the Leadership Circle, that gives a rich understanding of where they are both from their own perspective and from the perspective of others. We then take steps together to close the gap.
As a result of our work together, you:
Have increased awareness of how you show up

Connect with your inner authority and tap guidance

Move toward who you want to be

See changes in your key relationships

Exchange stress and energy drain for clarity and enthusiasm

Realize your ability to shape your experience of life and work
If you are ready to explore working together click here to schedule your free Inner Compass Call